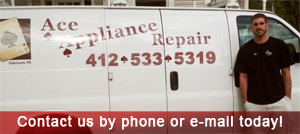 Appliances are designed to add ease and convenience to your household routine. Unfortunately, a broken appliance can do just the opposite. Luckily, the appliance service specialists at Ace Appliance Repair are standing by to give you the help you need. We have more than 16 years of experience in appliance repair, with the skill and knowledge to handle all sorts of appliance problems. Come to us for refrigerator repair, dishwasher repair, water heater repair, and much more. We also offer prompt and efficient appliance installation. Whatever appliance need leads you to contact Ace Appliance Repair, you can look forward to getting quality workmanship and professional customer service. Call today! 
Residential Appliance Repairs
Appliance Installation Service
Dryer Vent Cleaning
Insured & EPA Certified
16 Years of Experience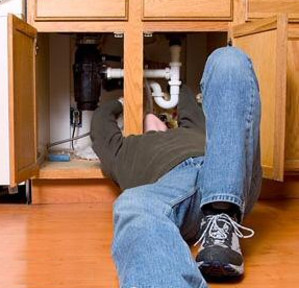 Ace Appliance Repair is based in Penn Hills, and our appliance service area comprises much of the surrounding Pittsburgh region. Come to us for appliance repair or installation in Oakmont, Monroeville, New Kensington, Plum, McKeesport, Fox Chapel, Murrysville, O'Hara Township, or anywhere else in the local area. Whether you need refrigerator repair, water heater repair, or dryer vent cleaning, you can count on our pros to give you fast and accurate results. We work on most major brands and models, and we're factory-authorized for Bosch, Thermador, Gaggenau, and Siemens units. You can trust us to have the knowledge and skill to get the job done right. 
 When it comes to appliance repairs, time is of the essence. That's why we offer emergency appliance repair services. If you need dishwasher repair or oven repair as soon as possible, we'll get a professional out to your home right away. We want you to rest easy knowing your appliance problems will soon be a thing of the past. No matter how quick the turnaround, you can count on Ace Appliance Repair for quality workmanship. We're one of the most trusted local appliance repair and installation companies because we know what we're doing and we never cut corners. Whether you need oven repair, washing machine repair, or installation of new home appliances, Ace Appliance Repair is your answer for high-quality workmanship and superior customer service.
For your security, Ace Appliance Repair is fully insured and EPA certified. We offer a 30-day warranty on labor and a 90-day warranty on parts, because we want you to be satisfied with our appliance repair services in the long term.
Want to learn more about hiring our skilled technicians for residential fridge repairs, washing machine repairs, or any other services? Contact us by phone or e-mail today!