Appliance Installation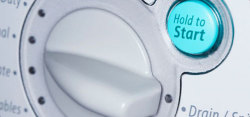 Settling for incorrect and incomplete appliance installation makes about as much sense as using an appliance that is missing some of its vital parts. Without the appropriate setup and connections, your machine won't be able to provide you with the dependable service you need and deserve. Ace Appliance Repair can resolve any worries you're having about the appliance install process. When you hire us for professional appliance installation service, you can count on our knowledgeable and skilled workmanship. We have 16 years of experience on the job, and we'll put everything we've learned in that time to work for you! Call or e-mail us today to schedule an appointment with our expert appliance installers. 
Our appliance installation services are available for residential appliances including: 
Refrigerators
Washing machines
Clothes dryers
Dishwashers
Ovens, stoves, and ranges
Garbage disposals
And more! 
We offer both electric and gas appliance installation for all major brands and models. We're fully insured for your protection and peace of mind. We're also EPA certified to handle refrigerants. In short, we'll be able to give you fast and accurate appliance hook up. We're Pittsburgh's trusted source for appliance installation. 
Why Hire Appliance Installers? 
Professional appliance installation service can have a profound effect on your domestic life. Faulty appliance hook up can lead to poor performance. Too many homes contain appliances that are not running at full power because of poor initial installation. This can lead to unsatisfactory service, as well as higher energy bills and premature breakdown. Avoid these issues by working with the appliance installers at Ace Appliance Repair. We'll also be able to help you:
Preserve your property: During the appliances installation process, your countertops, floors, walls, and fixtures can be put at risk of nicks, gashes, and dents. We'll take all of the necessary precautions to protect your home from collateral damage.

Maintain a clean and safe environment: By hiring Ace Appliance Repair to install new home appliances, you are ensuring that your home will be safe from everything from messy, inconvenient water leaks to serious fire hazards.

Avoid repairs: Incorrect appliances installation is a leading cause of malfunction. You can avoid having to pay for frequent maintenance by taking the preventative route: making sure that your machines are set up for success from day one. 
When you choose Ace Appliance Repair as your go-to appliance installer, you will receive customized, friendly service from a local, family-owned business. Whether you need electric or gas appliance installation, we'll give you superior craftsmanship and customer service. Call now to schedule the appliance installation services you need! We look forward to working with you. 
At this time, Ace Appliance Repair does not offer commercial appliance install. We apologize for any inconvenience. 
appliance installers
appliance install
appliances installation