Dishwasher Repair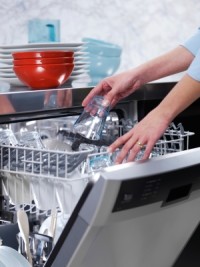 Elbow grease and sponges have nothing on the cleaning power of a dishwasher. No matter how hard you scrub your silverware and dishes, the very hot water temperatures and high-pressure spray of your dishwasher are, hands down, the best way to sanitize your dishes and rid them of remnants of past meals. But what happens if you start experiencing dishwasher problems? Get your broken dishwasher back in action by contacting Ace Appliance Repair at the first sign of trouble. We're dishwasher repair specialists with 16 years of experience and a dedication to meeting our customers' needs. We're standing by to take your call and schedule your appointment in Pittsburgh!
Contact us if you've experienced any of the following symptoms from your appliance:
Dishwasher not draining or filling
Unit won't turn on
Water is not reaching correct temperature
Spray arms are broken
Cycles aren't completed properly
Appliance leaks or emits unsavory odors
We offer everything from quick dishwasher rack repair to more comprehensive dishwasher repairs, resolving issues with water inlet hookups, drains, and other components. You can count on Ace Appliance Repair to carry out a thorough inspection, accurately diagnose the root cause of the dishwasher problems you're having, and then provide results that will last. Not only do we use only the finest repair techniques, we also stand behind our workmanship with a 30-day warranty on labor and a 90-day warranty on parts. 
Fully Insured for Dishwasher Repair
Ace Appliance Repair is proud to be fully insured for dishwasher repair service. You can have confidence and peace of mind when you choose Ace Appliance Repair for dishwasher repairs. When your dishwasher won't drain, is clogged, or is having any other issues, we're the company to trust. 
We offer dishwasher repair service for most major brands and models. Come to us for Bosch dishwasher repair, KitchenAid dishwasher repair, Maytag dishwasher repair, and much more. We understand what sets various models apart from one another, and we'll tailor our dishwasher service and repair accordingly. We have the knowledge and skill you expect and deserve in a dishwasher service provider. 
For reliable and long-lasting dishwasher repair services in Pittsburgh or a nearby community, contact Ace Appliance Repair today via e-mail or phone. We offer scheduled appointments as well as emergency service. We'll be there when you need us! 
Dishwasher Rack Repair
Dishwasher Repair Service
Dishwasher Repairs