Oven Repair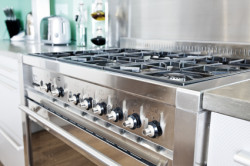 You need properly working kitchen equipment in order to produce delicious and nutritious dishes. If your cuisine is suffering because you need oven repair, call Ace Appliance Repair for prompt and efficient service in and around Pittsburgh. With over 16 years' experience in the field, you can rely on our technicians to have the knowledge and skill to complete a full range of oven repairs. Call or e-mail us today to schedule your appointment! We'll get right to work providing you with the superior oven repair service you need and deserve. 
When you schedule an appointment with Ace Appliance Repair for electric oven repair or gas oven repair, we'll strive to promptly troubleshoot and diagnose the source of the problem. We want to give you oven or stove repair that solves the problem at its source. Our extensive experience providing oven repairs allows us to offer quick and thorough resolution for a wide variety of symptoms, such as:
Oven not heating
Overheating
Uneven heat
Burners failing to ignite
Sparks
Oven getting hot on outside
Difficulty closing or opening oven door
Malfunctioning dials, lights, timers, or other features 
Your oven has complex electrical circuitry and gas connections. That's why it's so important to work with a professional oven repair service. Amateur oven repair can be difficult and dangerous, putting you at risk of injury or property damage. When you rely on Ace Appliance Repair for the best in oven and stove repair, you can breathe easy knowing the job will get done right. We'll take all necessary safety precautions and call on our expertise to ensure that when your oven won't turn off, your stove burners won't light, or you're having any other issues, your problems will soon be over. 
Fully Insured Oven Service
One of the things that sets Ace Appliance Repair apart from other companies offering gas stove repair, electric oven repair, and related services in and around Pittsburgh is the fact that we're fully insured. We offer some of the best oven service workmanship you'll find in the local area. Put your cooking appliances in our capable hands, and we'll get your kitchen in good working order again soon. 
We're pleased to offer a 30-day warranty on our technicians' labor, as well as a 90-day warranty on any parts we install. We offer electric and gas oven repairs for a wide selection of brands and models. Come to Ace Appliance Repair for Thermador oven repair, Dacor oven repair, and much more. If you're ready to experience the Ace Appliance Repair difference, don't hesitate to give us a call! We're standing by to meet your oven repair needs. 
Range Repair
Electric Oven Repair
Oven Repair Service