Refrigerator Repair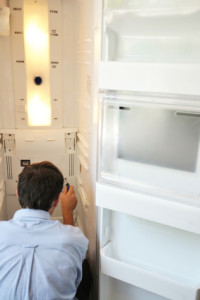 Your refrigerator might just be your hardest-working household appliance. After all, it's the one appliance that's on the job 24/7. While you're sleeping, working, or watching television, your refrigerator is busy keeping your food fresh until you're ready to use it. That's why it's so important to schedule fridge repairs as soon as you notice a problem with your unit. Avoid losing your fridge's contents to spoilage by contacting Ace Appliance Repair for prompt refrigerator repairs. We're Pittsburgh's choice for residential fridge repair, thanks to our knowledge, skill, and commitment to customer satisfaction. Call or e-mail us today to learn more, and to schedule your appointment! 
Ace Appliance Repair is equipped to handle refrigerator repair problems including:
Inadequate cooling
Over-cooling
Failure to cool at all
Leaks
Interior light malfunctions
Excessive noise
Door not closing
And more
If you're experiencing any of these issues, Ace Appliance Repair is ready to come to your rescue. We'll be able to accurately pinpoint the underlying cause of the trouble and take the proper steps to correct it. We use tried-and-true refrigerator repair techniques, as well as the best parts on the market, in order to ensure that each repair is not only speedy, but also accurate and effective. Whether you're tired of living with a refrigerator not cooling as it should or your unit has started making strange noises and you're concerned that you might have a larger problem, we've got you covered.
We provide fridge repairs for most brands and models. Not only are we fully insured for refrigeration repair, we're also EPA certified to handle hazardous refrigerants. We'll tailor our fridge repair services to your unit's specifications, and we'll give you the peace of mind that comes with knowing your fridge is in good hands. Choose Ace Appliance Repair when you care about safety and lasting results. 
Refrigeration Repair Warranties Available
We're proud to stand behind our refrigerator repairs with a 30-day labor warranty and a 90-day warranty on any parts we install. We know that when your fridge isn't pulling its weight in your kitchen, you want it fixed fast—and you want those repairs to last. We'll be there for you from your initial phone call until we're sure your fridge is no longer malfunctioning, because we understand what an important role your fridge plays in your household routine. 
In most cases, refrigeration repair is less costly than purchasing a new unit and can be completed in less time. No matter what type of refrigerator repair service you require, you can expect nothing less than professionalism and dedication to quality from Ace Appliance Repair. We're a locally operated and family-owned business serving our friends and neighbors across the Pittsburgh region. We have 16 years of experience in fridge repair service, and we're ready to put it to work for you. Call now to book our services! 
Refrigeration Repair
Refridgerator Repair
Refrigerators Repair